Our award-winning magazine, SLEMCO POWER, is now available online to everyone for download as Adobe® Acrobat® PDF files.
Don't Get Caught By A Storm
Hurricane Season 2021 is here and the tropics are already grumbling and signaling that it might be a busy year. Hopefully, we've had our turn for major storms here in southwest Louisiana, but we can never be too sure. We've made our preparations. We have extra materials and supplies on hand. It's time for you to do the same. It's early, but the storms seem to come earlier and earlier each year, so get ready while you can. We'll be here for you and your family when and if, the time comes to restore power. Report outages by calling 1-888-275-3626 or logging in to your SmartHub account.
While our 2021 Annual Meeting is cancelled, our 2021 Scholarship Drawing definitely IS NOT cancelled!!! All applicants who applied prior to the May 13th deadline will be placed in the drawing for 30 -- not twenty -- $2,000 scholarships.
We held the random drawing for the scholarships on Tuesday, June 1, 2021 at 9:30 am Live on our Facebook page.
Our new lobby is located at 2727 SE Evangeline Thruway in Lafayette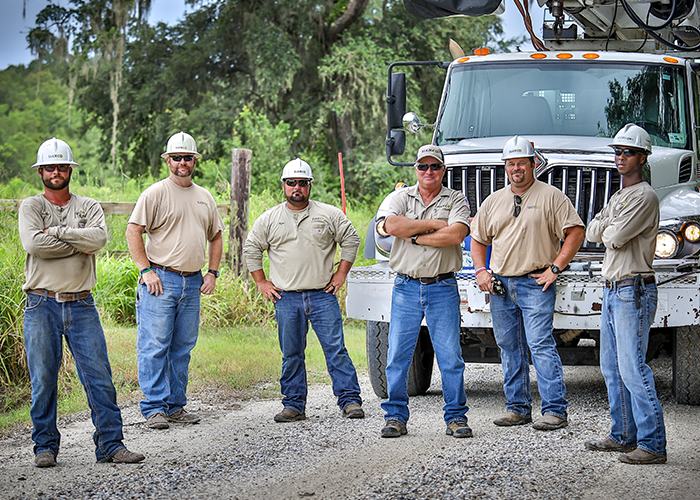 The Pride Behind The Power
The People of SLEMCO
Meet the faces of the men and women who come to work each day with the sole mission of making sure you have safe, reliable power in your home or business. We're proud of them all and hope you are, too.
Sign Up for Paperless Billing
Login to your SmartHub account today to sign up for paperless billing and your account number will be registered and included in a monthly drawing for a chance to win a $25 bill credit! Everyone who gets a paperless bill is eligible each month.
Things You Can Do On Smarthub
Report Outages
Get Alerts When Power is Out and Restored
Pay Your Bill
See Billing & Usage History
Your Connection to a More Powerful Life
2020 – With Flying Colors
Years from now, when we look back on 2020, we'll certainly remember it as a blur of unexpected challenges that the entire world had to handle.  But, hopefully, 2020 will also be remembered as the year that taught us all just how strong we really were, that we could adapt and be flexible, and who we could count on.  It certainly showed our employees who we could count on. You. Our customers. Right after our families and friends, our SLEMCO customers supported us through thick and thin after two major hurricanes, as we restored power safely in the middle of a global pandemic. We appreciate that more than you know. And, we hope that knowing we would not stop working hard each day – no matter what – to restore your power and get life back to normal gave you comfort and a feeling that one thing at least, didn't change or get turned upside-down in 2020. Our dedication to you.  
#WhateverItTakes
#ThankYou
#Perseverance